April 3rd, 1863
Dear ones at home
Long as I owe you all a letter I will split the odds and write to all of you_ I received quite a mail last night four letters and three papers_ I went out and got the mail for our tent we had most half there was_ as I took letter after letter_ one fellow little provoked I suppose because he had none sung out damit Dudley boys got all the mail_ and others any more for Dudley_ and bully for Dudley_ our letters and papers are a great treat to us in this our place (in one scence (sp.)) of confinement_ and if anyone wants any reading they come to tents 8 and 9 where the Dudley boys stay_ John wrote in his letter sometime ago asked how to stop the seraphim1 from squeaking he must take a feather dip it in oil put it on the peddles back and so and then put a little up where the sticks are attached to the bellows sliding them to work it in. We have had so far till last eve and today a cold week_ It snowed Monday night Tuesday morn the snow was four inches deep covering up the grass that has begun to look quite green in places where it is not trodden and killed_ but the snow has disappeared and I hope it is the last we shall see this winter_ They are building a new fort between our fort and the one next above only a little back_ and it is to be a big one so will mount some sixty guns it is said_ I shall judge there was five or six acres of land enclosed_ the ditch on the outside runs in all angles to go around it_ it is so built that a cannon can rake the ditches some like this_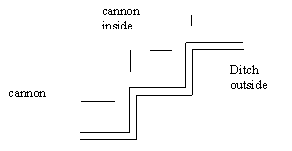 so if men come up to take the fort and get in the ditch and climb over into the fort the cannons can sweep them all to destruction_ in a short time Washington will be as safe as Dudley_ and a few men will hold it against a host.2
I got my mind made up I would not send for anything but as John says he shall have one if it is not to much trouble. I will tell of a few things that I can use_ Butter is the principle thing_ a little cheese_ some writing paper and envelopes_ a few sausages. Box blacking one box black pepper_ a pair of stockings and all your loves_ If you have much to do let all go it is not much matter_ Does John go to school he said Clarke had a good number of scholars but did not say he went_ We are all going to come home as soon as the war is over if we are well hope we may find you all well_ Did you get that letter that had Lorretas _____ in? Did Hezzie get that picture of the 32 lb. Cannon I sent home_ much love:_ Good bye
Affect. Son and Bub
Geo.
(A few more things)
A small ball game
A little_____ and fine cut
Tobacco G.W.
All of which is respectfully submitted
G. Williams is well
(Written on side at bottom of page 4)
some dried apple for sauce or some of that kind mother wrote of.
(Written upside down on top of page 1)
Ask H to send some 1 cent stamps
(Written sideways down the middle of pages 2 and 3)
John Johnson3 wants his watch sent out in the box_ he will write his folks tonight_ Let Hezzie pack it and it will come safe.